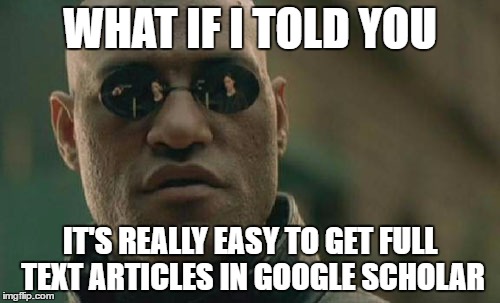 Google Scholar is a great resource for a lot of things — however, at first glance, it might not seem like it's very easy to get access to the full text of most articles.
But did you know that you can have Google Scholar provide you with the same Article Linker button that you click to access full text in other databases like PubMed? Which means you can easily access all of our subscription articles — right from Google Scholar?!
It's super easy. You just have to turn this function on. (It's best if you're signed into your Google account in your web browser, so that your browser remembers this setting every time you open it. Cookies must also be enabled on your browser in order for this to work.)
Go to scholar.google.com. Click the "settings" button at the top of the page.

Click the "library links" button.
Type "anschutz" into the search bar, then click the search button. Our library should come up. Click the checkbox, and then click save. (Leave the "WorldCat" option checked too).
That's it! You're done! Now when you search in Google Scholar, the results page should look like this:
You can click those "Full Text @ CU Anschutz" buttons to check and see if we have a subscription that gives us access to the full text of the article. When you're off campus and you click those buttons, you should be prompted to log in using your CU Anschutz (PassportID) credentials in order to access full text.
If we don't have an article you want, feel free to request it through Interlibrary Loan.
Remember, if you're having trouble, please don't hesitate to ask us for help!